Description
This is an authentic hand blended Green Peppercorn curry powder mix.
It is a spicy, dry curry with a heat rating of around 4 out of 5.
ET'S Authentic Green Peppercorn curry is characterised by the tanginess of the green peppercorns and the bite of the green chilli. This curry mix is one of our more intensely spicy and dry curries and we have included an extra chilli sachet if you want to add this at the end and make it hotter. (some people like to do this)
Just remember – there is no global curry authority about to throw you in jail because you did it your way. Curries are really a western invention based on Indian dishes and every chef prepares their curries their own unique way. So it is always a special experience trying someone's "interpretation" or a curry, because that is all it is, an interpretation. There are no rules about what a Madras or any other curry must be.
It all depends how YOU cook it and everyone is different. You could ask ten different chefs to share their recipe for this dish and they would all be different!
So by all means enjoy our Green Peppercorn Curry spice blend, and use the recipe below as a guide, but also feel free to be creative and add or subtract anything you want.
Please note – when you place your order we will then take the whole spices and hand blend them into YOUR mix. This ensures that the mix is the freshest it can be. When you buy spices at a supermarket they might have been sitting there a year! We make our interpretation of a curry for you. Its like having your own curry spice chef, isnt it?
This is a unique product only available from us and one that we hand blend exclusively for you.
We will post your order on the same day you placed it to ensure fast delivery. (if you order before 2pm). International customers (outside Australia) please use our contact page to organise postage before ordering.)
This authentic and unique Green Peppercorn curry powder mix comes in three heat sealed foil packets. The first pack is to blending in with your fried onions, garlic and ginger. T second pack is the spice pack for cooking with and the third pack is extra chilli and spices for sprinkling on the dish at the end – if you want it hotter.
The chillies used in this dish are a combination of green chillies from the Australian mainland and fragrant Tasmanian grown green chillies.
This dish can be prepared using any meat or by using only vegetables.
ET'S AUTHENTIC Green Peppercorn Curry RECIPE
What you need – 40g pack of ET'S Authentic Green Peppercorn Curry powder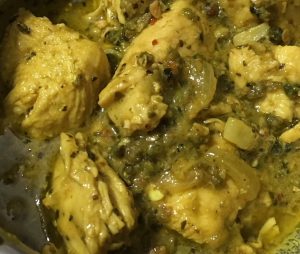 1 onion. 3 garlic cloves. Some fresh ginger (preferably). The juice of a fresh lemon. Salt to taste. A little coconut milk if you want to increase the thickness of the sauce at the end. Enough meat, or vegetables, for 4 people (can be any cut of meat you prefer). Ghee or cooking oil and butter.
When you are ready to cook...
1 – Heat your pan on the hot plate and add 3 teaspoons of ghee. It is always preferable to use ghee when cooking curries. If you don't have ghee use a combination of cooking oil and butter.
2 – Add a chopped onion and 3 cloves of garlic crushed and chopped. Add these to pan and stir until golden but not dark. Grate some fresh ginger to taste. Save some for the finishing.
4 – Add the meat or vegetables to the dish and stir well, adding a little water. Cook until the meat/ vege is cooked through.
5 – Then add the contents of the spice packet. Stir this in well, add a little water if needed and simmer over a low heat. The dish should not be a sloshing sauce, but don't allow all the water to evaporate away completely. Keep the dish moist, not drenched.
6 – Squeeze in the juice of a fresh lemon.
7 – Simmer until the meat/vege is tender. Taste it. You will find it has a dry and spicy taste. At the end of the cooking cycle, grate in a little more fresh ginger and add about 100ml of coconut milk and blend in. If you want it less hot, add some more coconut milk and stir in. 100ml should be fine. If you want it spicier, hotter, then when you are ready to serve sprinkle the contents of the finishing mix and stir in. It is now ready to serve with basmati rice and a few spears of cucumber. For an optional extra place a few leaves of fresh basil on top and a dob of butter.
Variations – you can add any vegetables you like to this dish. Carrots would sweeten it. It is fine to use any meat or vegetables.
How much of the spice mix to use?
I would use all of it for a full bodied taste, but you might prefer to go slow and use less than the optimum amount. Remember, this serves 4 people. If you are cooking for yourself reduce the amount of spice being used.
Enjoy!